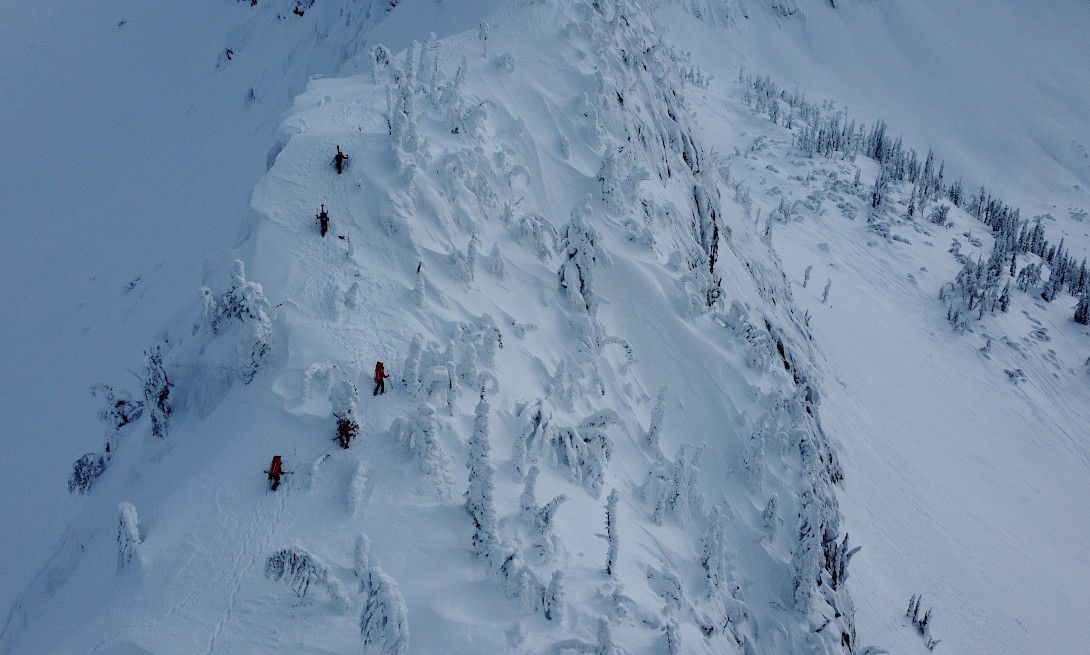 Avalanche Skills Training 2
Delve deeper and expand your backcountry knowledge.
AST 2 builds on the foundations of your AST 1 and is a great choice after you have gained some experience in the backcountry.
The AST 2 curriculum is built around the daily process, emulating the same approach used by professionals. It expands on the foundations of your AST 1 and provides a more advanced decision-making framework for travelling in avalanche terrain.
Our AST 2 course takes place over 4 days, split across 2 weekends in January. This unique structure will give you the opportunity to absorb what you learn in the first two days, monitor what is happening to the snowpack over the week, and put your theories to the test the following weekend as you observe how the snowpack has changed.
You must have completed Avalanche Skills Training 1 in order to book the Avalanche Skills Training 2 course.
What you'll gain
Progressive planning and travel techniques required to travel safely through various types of terrain using the daily process;
Getting the most from your avalanche forecast;
Key techniques for applying the Avalanche Terrain Exposure Scale to develop your own terrain ratings;
How to proficiently carry out a companion rescue;
Decision making skills to manage avalanche risk;
A deeper theoretical understanding of avalanche terrain and snowpack.
Required experience
Backcountry Knowledge
Advanced beginner - have you been exploring the backcountry and want to increase your knowledge? Got some experience under your belt and want to dial in those skills? Great! We'll tailor the course to your skills and experience.
The AST 1 course is a prerequisite.
Fitness Level
Some - a reasonable level of fitness is required. You should be comfortable being outdoors in cold weather all day, and able to undergo consistent moderate physical activity throughout the day. You won't be left behind, and snack breaks on the way up the skin track are always encouraged.
Riding Ability
A strong intermediate to advanced riding ability is required, with confidence in untracked powder and trees. There are no groomed runs in the backcountry!
Touring Ability
Advanced beginner - you should be comfortable moving around on your touring equipment. We will use pre-existing skin tracks and start to set our own. 
Course dates
January 13-14, 2024 & January 20-21, 2024
8:00am - 4:00pm
$650 + GST
Key information
This is a 4-day course split over two weekends that takes place from 8:00am - 4:00pm. The date listed on the booking calendar is the first date of the course, meeting at the Hummingbird Lodge at Whitewater Ski Resort. All dates must be attended to receive your AST 2 certificate;
AST 2 courses require a minimum of 4 participants to proceed. If a course has fewer than 4 participants it will not run and those scheduled to take the course will have the choice of a full refund or to be scheduled at a later date (if available);
All participants in this course must complete the AST Student Release as well as the Whitewater Backcountry Access Waiver on the first day of the course.
Booking information
To book, call (250) 352-6954 or email ;
Lift tickets are included in program prices unless otherwise stated;
Program availability and lesson formats are subject to change;
Lessons must be paid in full at the time of booking;
Taxes are not included in the advertised price and all lessons are subject to 5% GST.
Cancellation policy
Our cancellation policy has changed for the 2023/2024 season
A $25 administration fee will be applied to all cancellations after the time of booking;
If a cancellation is made 30 days or more in advance of the program, you will receive a full refund, less a $25 administration fee;
For cancellations made between 30 and 15 days in advance of the program, 50% of the total program fees will be refunded, less a $25 administration fee;
Cancellations made within 15 days of the program start are not eligible for a refund;
Refunds will not be issued for no-shows.